Cuc Phuong National Park, situated on the northwest border of Ninh Binh and adjacent to the provinces of Hoa Binh and Thanh Hoa, is a vast nature reserve that holds a significant place in Vietnam's conservation history. Established by President Ho Chi Minh in 1960, it was the country's first national park, and is currently the largest in the country. The park is also a critical site for preserving biodiversity in the region.
Covering a rugged area of 20 square kilometers, a significant portion of the park comprises dense tropical rainforest that houses a diverse range of plant and animal species, including some that are exclusive to the region. The park is renowned among conservationists, offering well-marked walking tracks, several strategic all-weather roads, and lodgings for visitors who want more than just a brief visit. However, the park's most significant contribution to conservation efforts is its rescue sanctuary for endangered plant and animal species.
A National Treasure
The park was voted Asia's leading national park by the World Travel Awards Organization for 3 years running between 2019-2021 but another facet of its claim to fame has been the important archeological relics and artifacts found within its grounds, especially with the Dong Nguoi Xua, the so-call "Cave of Prehistoric Man".
Other remnants of prehistoric habitation have been discovered the Park, in the form of graves, stone axes, stone arrows, shell knives, grinding tools and animal bones. Buried in the rubble and dust of ancient limestone caves, their discovery suggests that humans have lived continuously in the area from between 7,000 and 12,000 years ago.
Interestingly, Cuc Phuong National Park's total area of ​​22,200 ha is split between the three neighboring districts, with around half in Ninh Binh province (where its namesake Cuc Phuong commune is located), a quarter in Thanh Hoa province and a further 5,000 ha in Hoa Binh. This inter-provincial sharing of resources makes it truly a National Park in more than just a name.
Water and Life
The park's river system feeds into the Mã River, which supplies water for domestic and industrial use in the surrounding areas from the Yên Quang reservoir. Notably, there are few permanent lakes within Cuc Phuong Forest..
Despite it's relatively small size, Cuc Phuong National Park's flora makes up 68.9% of the families, 43.6% of the genera, and 24.6% of all known plant species in Vietnam. The park is dominated by tropical forests with canopies that can reach over 40m in height, reminiscent of the vegetation that once covered much of the area, indeed, much of Vietnam as a whole.
As with most karst topographies, the cave-riddled limestone outcrops have a profound effect on the local water table. Ninh Binh province can be seen as a massive underground aquifer for the Red River delta, and the Cuc Phuong area is an integral part of that natural system. Excess water leeches out of the rock in numerous streams and springs, eventually flowing into the nearby Buoi (Pomelo) River to the west of the park.
Besides the many endemic large tree species, Cuc Phuong National Park has a vast diversity of woody and medicinal plants. In turn, the park has become a critical center for propagating many rare and valuable flora, which are then distributed in re-afforestation efforts across the country.
Abundant Flora
The Hollong, also known as the Dang tree or Dipterocarpus retusus, is probably the most famous and spectacular tree in Cuc Phuong. This massive giant is 1000 years old, stands at a staggering 45m in height with a 5m girth, and attracts visitors from across the world who marvel at its age and size.
As you explore the park, you will come across a variety of trees, some of which are endemic to the area, some endemic to Vietnam, and a few that have been imported. If you are lucky enough to be there at the right time, you will also see fruit trees such as the Dragon Plum, wild raspberries, and figs.
Many visitors come purely to witness the massive number of orchids in their natural habitat. With up to 50 species, some flower all year round while others depend on the season and climate conditions. Of the 2000 plant species in the park, some 1700 are angiosperms (flowering plants) so if floral beauty is your interest, you will not be disappointed with Cuc Phuong.
Within the Cuc Phuong ecosystem there are also a large number of animal, birds, insects, lizards, fish and insects. Perhaps the most popular with foreign visitors are the Asiatic primates but there are also over 300 species of birds, 76 species of reptiles, 46 species of amphibians, at least 11 species of fish and thousands of species of insects.
Conservation
Many species in Cuc Phuong are listed in the Red Book – the endangered species conservation book for Vietnam. Vietnam is an old country with a long history of warfare and human expansion, which is rarely a good combination for conservation. Add to that the inevitable poachers and hunters and you have a recipe for extinction.
This makes Cuc Phuong doubly important. Not just to retain the mosaic of unique fauna and flora but also to encourage regrowth and rehabilitation of the dwindling population of many of the rarer species. This work is proactive and includes conservation centers for primates, endangered mammals like the Asiatic Pangolin and also for Vietnam's beloved turtles – many of which are also on the endangered list.
The first stop for most visitors will be a guided tour around the three main rehabilitation centers. This tour is included with the entry fee but although will there are several each day, most are at a fixed time.
Endangered Primate Rescue Center
As mentioned previously, the primate section is perhaps the most popular, with a variety of rare and endangered species including the critically endangered Delacour's Langur, the Golden-Headed Langur, the Tonkin Snub-Nosed Monkey and Black Crested Gibbon although the "collection" will change from time to time as animals are rehabilitated and new ones come in.
The Cuc Phuong Endangered Primate Rescue Center was first started in 1993, with sponsorship from the Frankfurt Zoological Society. Unfortunately, the need has grown exponentially due to the deprivations of smugglers and the encroachment of industrialization on native habitats. Whether you have an interest in Primates or not, a visit to Cuc Phuong helps maintain this important work and your support will be appreciated.
The Civet and Pangolin Conservation Center is not open to the general public, mainly due to the extended breeding program for these creatures which constant interruptions from curious visitors can impede. However, if the need or interest is great, private showings can be arranged for individuals and small groups but you will need to apply to the center administration beforehand.
Turtle Conservation
For many foreign visitors, the turtle conservation center in Cuc Phuong National Park may seem unremarkable, as they may not understand the cultural significance of these amphibians in Vietnam. However, the center plays an important role in rescuing turtles from smugglers who trade them to China for food and exotic pets, as well as helping to restore populations that have been displaced by urbanization.
The Vietnamese pond turtle (Mauremys annamensis) in particular is a focus of the center's breeding program, as it is listed as critically endangered on the IUCN Red List. Unfortunately, many local turtle species have been devastated by the lucrative trade for both meat and pets, and by the loss of their natural habitats.
Several Vietnamese Sea turtles have faced extinction in the past decade or so. Large scale fleets of modernised junks and ships are responsible for scooping hundreds of thousands of turtles from the Vietnamese coastline, which has contributed significantly to their decline.
However, there is some positive news. The discovery in 2020 of a mate for the last surviving Hoan Kiem turtle (Rafetus swinhoei), a critically endangered species, has sparked increased government and public investment in turtle conservation efforts. In Vietnamese culture, turtles are often symbols of longevity, strength, and intelligence, and it is our hope that these symbols will continue to hold true for the researchers and lawmakers of the Vietnamese conservation movement.
Abundant Diversity
Cuc Phuong has more than 40 species of bats, 97 species of mammals, some 300 bird species, 11 species of snails, 36 types of reptiles, 17 amphibians, many varieties of fish (with a special section of underground cave species) and 280 species of butterflies. Without places like Cuc Phuong, much of this natural diversity would be lost forever.
Although the climate in Cuc Phuong is technically in the temperate zone, it also belongs to the tropical monsoon belt with the average annual temperature around 24.7 °C. The rainfall varies but July to September are the wettest months while the period between October and January are traditionally the driest, coolest months – ideal for long treks through tropical rain forests.
The terrain is complex, the forest in its primeval form holds many mysteries, and the landscape is unique. There are many caves with interesting landscapes and hidden cultural and historical vestiges such as Moon Crescent cave, Chua cave, Thuy Tien cave, Nguoi Xua cave (where much of the archeological work has occurred), Con Moong cave, Coral cave and so on. There is also a 38°C hot spring in the garden area.
Other attractions include the Cuc Phuong Botanical Garden, an area dedication to the collection and display of many rare and endemic species of Vietnam. It forms one of the three world-class botanical gardens in Vietnam, along with Bach Thao Park in Hanoi and the Zoological and Botanical gardens in Saigon. The route to visit the garden is an easy gradient with a walking distance of around 3 km.
Educational Center
Cuc Phuong Visitor Center itself was originally sponsored through AusAid and Frankfurt Zoological Society to become the first visitor ecological education center established in Indochina. All visitors will need to report here on entry to the park but it also forms an important educational and training center for both Vietnamese and foreigners alike.
More than 15,000 Vietnamese school kids from 43 different schools are involved with the Center through Conservation Clubs established at the local level. The program is largely carried out by counterpart teachers and local staff, some hired and trained at the park. Beginning in 1996, the program is aimed at increasing local understanding about nature and the environment, as well as encouraging greater participation in helping to protect the park.
At the same time, a Conservation Awareness Program carries out village-based educational programs, reaching out to over 15,000 so far.  Yet a third component of the Center is aimed at park visitors, enhancing the value of of the visit through interpretation and special educational such as the free guided tours through the conservation areas.
Museums and Muong
The Cuc Phuong Park features a museum that serves as a storage and preservation facility for various species such as insects, butterflies, dragonflies, cicadas, stick beetles, birds, as well as preserved animals like bears, leopards, monkeys, and langurs. Additionally, the museum houses 50 archaeological discoveries from the area, including specimens of "slab-toothed" (herbivore) reptiles dating back to over 230 million years ago.
For those with an ethological bent, there are several Muong villages on the fringes of the Park – indeed the Park supplies paid work for many Muong people. The most famous of these, about 16km from the park center, is the Khanh village in An Nghia commune in Hoa Binh province. On the left bank of the Buoi river, this traditional village features stilt houses and the terraced fields typifying the lifestyle of the traditional owners. However, the road to Muong village is arduous and due to cultural sensitivities must be taken with a guided tour. As they say, this is not Kansas, Toto …
Đỉnh Mây Bạc (Silver Cloud Mountain) is the highest mountain in the Cuc Phuong park with an altitude of 648m. About 3 km from the Center, the trip will take you through many old forests along a well-marked trail. It is suggested you are in reasonable physical shape, take some bottled water, insect repellents and flat shoes with high socks – leeches are to exactly unknown in these parts. The return trip takes around 4 hours however, like many of the more exotic treks in the park, this walk must be taken with a guide.
Trekking
The whole park is crisscrossed with tracks for bush walking, cycling and motorized transport. Generally these trails and not heavily trafficked and there are many wild animals and treacherous sections where the unwary can lay injured for many hours before being found. Be sensible, take guides where indicated and where unescorted trips are allowed, let people know where you are going.
As mentioned earlier, the most suitable time to come to Cuc Phuong National Park is in the dry season (from December to May), when the weather in the forest is cooler. Try to avoid visiting during the willful rainy season as the tracks can become waterlogged and slippery as well as increased numbers of mosquitoes and other insects. May is an especially beautiful time as this is the time the flowers bloom and the numerous varieties of millions of butterflies descend to feast.
Travel Tips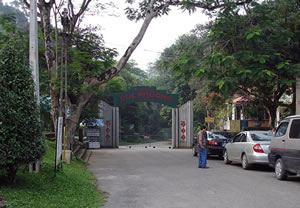 Getting to Cuc Phuong without private transport is best achieved via tour operators, either in Hanoi or Ninh Binh. Even if you self drive, the trip from Ninh Binh city is around 100km round trip along some spectacular scenery but less than gorgeous roads.
Traveling by motorbike or self-driving car from Hanoi, you need to take National Highway 1A to Gian Khau junction (Gia Vien district, 10km from Ninh Binh city) and then turn onto National Highway 12A to Nho Quan town (around 2km) and then turn left to Cuc Phuong.
Accommodation in Cuc Phuong National Park, depending on their maintenance schedule, is not lavish but there are several choices for visitors. The secret here is to book ahead.
Garden Gate at the center of the park has beds from 200,000 VND. In addition, there maybe a rental service of forest equipment and mountain bikes. Reportedly rustic but basic amenities are supplied as is a light breakfast.
Mac Lake area: This site is mostly collective stilt houses and rooms and an area usually reserved for large groups visiting with conservation and education groups. Visitors get to light a campfire, hear local stories, eat and drink in the forest, group singing and bonding. Not a place for solitude in the forest!
The central area: includes houses on stilts and separate apartment nearby but you can also choose homestays in villages near Van Long Lagoon, which is reasonably convenient to the Park.
Food and Equipment
There is a cafeteria/restaurant at the main center, though it is opening hours may be changed due to the recent downturn in tourism. However, if you are in luck, after visiting and exploring Cuc Phuong you can try the mountain goat barbecue or the giant mountain snails only available in this region. If you are looking for the less exotic, other specialty dishes such as grilled garden chicken and deep-fried perch are the go, all washed down with a cup or two of Muong rice wine!
Cuc Phuong National Park is basically a wilderness area. As such it is imperative to bring any needed items such as: hats, forest shoes, basic medicine, bandages, a lighter or salt for leeches and some energy foods and drinks in case you miss the cafeteria. For bird or animal watching, binoculars are a great accessory and if you are going caving, a strong torch is handy. It goes without saying that a camera (of some sort) is mandatory!
In the forest, there are many kinds of mosquitoes, insects and bugs. You can't avoid this so the solution is to bring insect repellents and/or cover up. While it seems anti-intuitive, long trousers, long socks, long sleeve shirts and boots are great for jungle trekking. Not only to prevent insects, leeches or worse landing on unprotected skin but also to mitigate against sharp branches and vines that abound in the wilderness.
Entrance ticket price
Adults: 60,000 VND / person
Students: 20,000 VND / person
Children: 10,000 VND / person
Note: The above ticket prices were valid at the time of writing and are subject to change. Remember also the ticket is only for entry to Cuc Phuong National Park and the Conservation tours. It does not include any car or bike rental, boat trips, dining or hiring guides, etc.