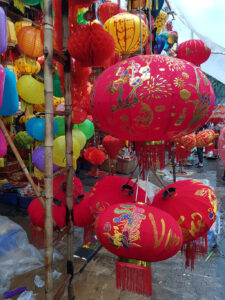 As mentioned elsewhere, Vietnamese are a close knit society. To celebrate or perhaps reinforce this, the Vietnam social calendar is bristling with many events, festivals, memorials, anniversaries and general family gatherings. Perhaps the largest and most colorful are the religious celebrations that follow the Lunar cycle rather than the Gregorian (solar) calendar.
The Lunar New Year or Tet in Vietnam is perhaps the most famous and like western New Year is celebrated everywhere. Unlike the Gregorian New Year, Tet is spread over 12 days and has many spiritual and religious overtones. Full of colour with the decorated lanterns, fireworks, religious displays, flower and fruit displays, it is never the less a quiet time for tourism.
Many people return to their hometowns and many businesses will remain closed for the period, so plan accordingly. It generally falls some where in late January or early February and, unless you have local friends and family, is a good time to settle for the duration in a place like Ninh Binh.
Of course, there are a multitude of other festivals of all description. As the Vietnamese follow several religions according to custom, location and upbringing, it can sometimes be bewildering. Birth and death days of revered ancestors are common, as are Buddhist holidays, Taoist memorials, Christian Holy Days and Confucian celebrations. Weddings are also popular social events and an invitation is a prized offering that should not be ignored. Sport, especially football, are much loved activities and if you get a chance to see the national Football team, either live or televised, you will be enthralled with the excitement and passion these events create.
An Invitation to Culture.
We cannot invite you to private functions but we can list at least some of the biggest and best known public festivals and celebrations. Make sure you are aware what is being celebrated and follow the local customs towards behavior and dress. Rowdy or rude manners at solemn events can be the equivalent of the same at Easter Mass and nobody appreciates it.
But not all events are solemn, some are a real celebration of life, love and joy. Just watch the locals and follow suit and you are sure to have an unforgettable time.